Does your web content management framework update your social network? Shouldn't it?
You've built a social network, now make it easier to keep your network informed. Noein's business solutions are designed to allow small businesses to deliver content, distribute that content to social networking platforms, collaborate with partners and customers, and market and sell products online. We start with a flexible web library called Sizzle and we customize it to meet your needs.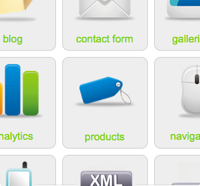 When installed, a basic Sizzle solution will include a design with the ability to edit content, including navigation, add and remove pages, upload documents and images, list products for sale, collect donations, subscribe and unsubscribe a basic mailing list, manage users, and post blog entries. Certain content will be broadcast on social networks like Twitter and Facebook. Any of these functionalities can be tailored to meet your requirements.
If you have needs that are not met by our basic solution and can't be met through simple modifications, we will gather your requirements using our software development process and add the needed functionality.
Sizzle comes in three package sizes.
Lite
Standard
Professional
The features included in each package are detailed at the features page linked to below. Modifications are additional, and are quoted before a project starts. If you are interested, you can learn more about Sizzle and its features.
Process Makes Perfect
Software projects routinely fail due to bad planning and management. We've spent the last eight years refining our process.
Learn what makes it better.
In-Browser Specification
We have developed software to allow complex medical devices to be designed and specified visually in a web browser.

Download the white paper.
Technical Capabilities
Noein excels at engineering applications that expose data, logic, and services for browsers, mobile devices, and external systems.
Noein is an innovator of rich interfaces in JavaScript that consume web services.

Read about our capabilities.